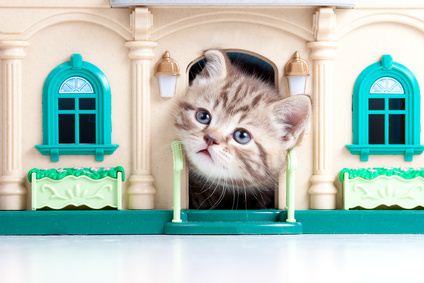 Pets are a great addition to families and many homeowners have pets of their own. While this is generally not an issue, there are a few aspects of selling that need to be looked at through a different lens if you are representing a client with pets. Their furry friends may be friendly and lovable, but it may make selling just a tad more difficult.
1. Check their insurance.
When selling a home, pets may sometimes be an insurance liability. Whether or not this is the case, it is important to check with the client's insurance beforehand. In the off chance that a pet may bite a potential buyer, your client should know how much it would cost to insure themselves against it.
2. Make sure pets are outside, crated, or put in a separate room during showings.
Even if your dog is the most people-friendly creature out there, or your cat is the biggest purr machine you've ever seen, some people may be afraid of them. It is simply a good rule of thumb to keep pets away when strangers are in the home, just because you never know what someone's personal experiences with pets may be.
3. Fix any pet-made damages.
Maybe your cat likes to use the basement carpet as a scratching post when you're not looking. Or your dog bit through the wooden staircase railing one day when he wasn't getting enough attention. Whatever the case may be, any pet-made damages to the home should be fixed before the home is sold. If it is in the process of being fixed, make that clear to any potential buyers as well. Some buyers may turn away if they notice damages to the home, even if they are minor. Ideally, all impairments to the home would be fixed before showings begin, but if that is not possible, they should at least be promised to be fixed before the sale is complete.
4. Prospective buyers may have severe allergies
One in ten people is allergic to household pets. As a home seller with pets, who wants to make your home appealing as possible, that's not a ratio you can ignore. In fact, children between ages six and nineteen are more likely (14%) to have a pet allergy. Given these statistics, if a family of four comes to view your home, there's a good chance one of them could react to pet dander.
5. Deodorize
Pet odor is one of the trade-offs of pet ownership. First and foremost, make sure the property is free from animal droppings. Inside and out. I know a buyer who saw turtle droppings on the floor while viewing a home. Her only comment was, "How tidy are these people?" If a seller leaves dung plainly scattered about, what less visible filth is in store? Suffice it to say, she didn't walk away with a favorable impression.
Final Thoughts
Home selling can be an emotionally charged process for both buyers and sellers. As pet owners, there are many things we overlook out of love for the furry, fuzzy and feathered family members. Conversely, buyers entering your home for the first time have no emotional attachment. They'll be looking for a clean, organized space where they can easily imagine themselves at home.
Taking some time to view the home from a buyer's perspective will give you a better vantage point for improving your home's appeal. Plus, you'll increase the likelihood of  completing the sale quickly. Ultimately, the entire family, pets included, will benefit from creating a buyer-friendly atmosphere throughout the home selling process.